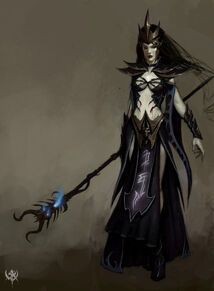 &nbsp
Summoner
Game Related Information
Strength Modifier

9

Endurance Modifier

12

Intelligence Modifier

19

Wisdom Modifier

23

Agility Modifier

7

Resistance Modifier

10

Discipline Modifier

13

Unique Bonuses

+5 magic defense, -5 strength
Summoners are powerful people who do not fight with their physical strength, but rather with other beings known by the Mystics as Avatars. Avatars are known for their amazing strength and their tremendous power. They are divided by the elements and they can only be summoned by the summoner when they are in trouble. Avatars are also prayed to in the Temples all across the world. The temples are believed to hold them in a chamber deep within the ground, but they are not really there. They are in heaven with the other souls of the dead.
Ad blocker interference detected!
Wikia is a free-to-use site that makes money from advertising. We have a modified experience for viewers using ad blockers

Wikia is not accessible if you've made further modifications. Remove the custom ad blocker rule(s) and the page will load as expected.