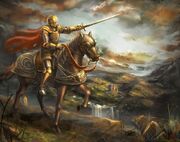 Black watch
Game Related Information
Strength Modifier

13

Endurance Modifier

10

Intelligence Modifier

7

Wisdom Modifier

5

Agility Modifier

12

Resistance Modifier

9

Discipline Modifier

13

Unique Bonuses

+5 strength elves only
The Gold Watch are the elite of the Elven Army in Arborlon. If you are not the best, you are not going to be a member of this force. They protect the palace of the Elven royalty and go on hunts to find powerful items to safeguard them to make sure they do not fall into the clutches of the forces of darkness.
Ad blocker interference detected!
Wikia is a free-to-use site that makes money from advertising. We have a modified experience for viewers using ad blockers

Wikia is not accessible if you've made further modifications. Remove the custom ad blocker rule(s) and the page will load as expected.