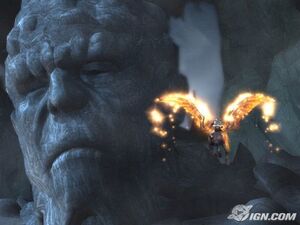 &nbsp
The Avatar god of the earth. He possesses the strongest power in the world. He is no match for any foe except for the gods. He was sent by the gods to the earth to make a pact with the soldiers of life. The soldier, Minos was chosen to guide the world into a new age. Geia was given the abilities to shatter the ground with his voice and will split the waves with his fist.
ATK: 194
DEF: 294
SPD: 65
WIS: 293
INT: 197
CHA: 207
Special move: Geia's wrath
Ultimate drive: Whispers of the earth
God's drive: Broken earth
Currently owned by: The high summoner
Ad blocker interference detected!
Wikia is a free-to-use site that makes money from advertising. We have a modified experience for viewers using ad blockers

Wikia is not accessible if you've made further modifications. Remove the custom ad blocker rule(s) and the page will load as expected.